FAMILIES AND FLOWERS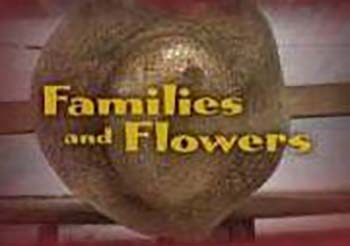 Preview
2003
27:00
Producer/Director: Mark Freeman
Editor: Mark Freeman
Writer: Mark Freeman

FAMILIES AND FLOWERS
The flower-growing industry in northern San Diego County is in many ways a microcosm of our rapidly changing society. Encinitas —the once self-proclaimed "flower capital of the world"– is facing daunting challenges. Economic growth and increased population are putting more demands on land, water and energy resources. New subdivisions continue to replace former growing-fields and greenhouses. Environmental concerns and regulations are seen by some as a threat to profitability. International competition is fierce. And capital costs and public concern may limit the potential of a biotech revolution in the flower fields. Despite the challenges facing agriculture in an exploding suburban economy, third generation, family-owned businesses continue to thrive in San Diego County, models of adaptability and perseverance.
*** Video Librarian "An interesting portrait of changing industry in the once self-proclaimed flower capital of the world, this documentary (broadcast on local PBS stations) is recommended."
Educational Media Reviews Online "What's to become of this growers paradise? Will the families be able to maintain their operations? Families and Flowers presents us with the issues facing these small business owners in Encinitas but it also mirrors many family businesses trying to survive in today's ever-changing global economy." Recommended
KPBS, KVCR, KOCE, KVPT, KRCB, KIXE, KCSM, KVIE, KLCS, WTVS, KUHT, WBCC, KULC, WNED, KLRU2, KCDT, KUID, WEIU, KAID, KISU, KIPT
Museum of Photographic Arts
Honorable Mention Earthdance Environmental Film Festival
Sas International Film Awards Italy
The Encinitas Trilogy is a portrait of people who make a real difference in the life of their community. Each of these videos documents a moment in our shared social history, a fragment of our collective memory in a time of complex challenges and rapid change. Edmund's Island is a portrait of a homeless news hawker— an angel to his customers. In Lines in the Sand tidal artist Kirk Van Allyn etches a sacred space with only ephemeral sand drawings.
Families and Flowers is the story of growers whose nurseries (and way-of-life) are shadowed by their neighbors' million dollar homes.
Three families are profiled in the documentary:
Ecke Family
The Eckes are by far the largest, most successful and most well-known flower growers in San Diego County. Paul Ecke, Jr. was renowned for breeding and marketing poinsettias. His efforts made the brightly-colored plant virtually synonymous with the winter holiday season. Moving from field-growing to greenhouses freed up valuable real estate. The family has created a development corporation making available property for housing and commercial development. Major growing operations have been moved to Guatemala. Paul Ecke III has lead an effort (not without controversy) to build a biotech research facility on the Ecke property in Encinitas.
Tayama Kimura Family
Tamaya Greenhouses was founded by Tamie Tayama's father. Their family was interned during the Second World War. Tamie and her husband Joe Kimura have passed, operations to their son Michael. They are the largest growers of cut orchids in Southern California. Each New Year's Day their flowers are featured in the Rose Parade.
Weidner Family
Evelyn Weidner and her daughter Mary are well-known for their pansies and begonias. Customers from miles around jockey with one another to among the first to pick each season's offering from their nurseries.
Curriculum suggestions
Social Studies
California history
Internment of Japanese Americans during WWII Families and Flowers not only documents agricultural history and economic growth, but also touches on the experience of a local grower family interned at the Mazanar Relocation Camp.
Environmental issues: Land use, pesticides, bio-technology, clean water, suburban sprawl and land-use planning
Discussion Questions
What kind of agriculture is/was prevelant in your community? What kinds of flowers or plants are grown?
How how communities changed when agriculture is no longer feasible?
If it were up to you would you prefer that your community have more agricultural lands or more houses?
Do you know anyone who works in agriculture? What are pay and working conditions like? Are there unions? Why or why not?
How is biotechnology changing agriculture?
Suggested Projects
Students can conduct oral history interviews with older residents. With even a disposal camera, a poster presentation of words and images can help preserve memories of our and heritage.
Epilogue
Since the completion of the documentary the Weidners continue to grow pansies and begonias for their loyal customers. Tamie Tayama Kimura and her husband Joe have retired. Their son Michael manages the orchid nursery. The Ecke family who created the wholesale Floral Trade Center in Carlsbad are planning to close the market and create a more profitable enterprise. The Tayamas and other flower wholesalers will be forced to relocate.
In Encinitas the Paul Ecke Ranch has not moved forward with their plans to build a biotechnology center. Instead they sought permission from the city to rezone their property and build 101 homes. This plan would amend the city's 1994 general plan in which the Eckes agreed to maintain their ranch in agriculture in perpetuity. Voters rejected the proposal 65% to 35%.
Links
Weidner's Gardens
San Diego Coastkeepers
United Farm Workers
Archive.org
Archives
Mark Freeman Papers, 1997-2017, University Archives, Special Collections and University Archives, Library and Information Access, San Diego State University.  Special Collections may be contacted via telephone (619-594-6791), fax (619-594-0466) or askscua@mail.sdsu.edu