EDMUND'S ISLAND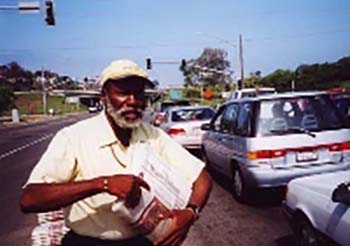 Preview
2002
12 :00
Producer/Director: Mark Freeman
Editor: Mark Freeman
EDMUND'S ISLAND
Edmund's Island is a portrait of an "angel" working as an Encinitas, California news-hawker. Edmund is a homeless veteran. But you would never know it watching him dart in and out of traffic selling and giving away over one hundred papers each morning. Edmund's island is a traffic divider in the middle of Encinitas Blvd. In the minutes between traffic lights Edmund creates a community of face-to-face relationships. More than a vendor, Edmund is a catalyst for a caring community. Edmund tells his customers the news of the day, and people routinely give me him gifts of food, money, books and clothing. Edmund reciprocates offering a vision of joy and concern as the life of the community ebbs and flows past his island.
How To Order
AUDIENCE CHOICE AWARD Iowa City International Doc Festival 
BRONZE AWARD Worldfest Houston 
GOLDEN LION AWARD George Lindsay Film Festival
Ashland Independent Film Festival
Big Muddy Film Festival
California Independent Film Festival
Chicago International Documentary Festival
Docside Touring Festival
Film Arts Festival
George Lindsay Film Festival
Hopes and Dreams Festival
Hotsprings Documentary Festival
Iowa City International Doc Festival  
Worldfest Houston  
Interfaith Shelter Network
Kalamazoo Shorts Festival
National Alliance for the Mentally Ill
North County Collaborative Housing Domain
Regional Continuum Care Council
Regional Task Force on the Homeless
The Encinitas Trilogy is a portrait of people who make a real difference in the life of their community. Each of these videos documents a moment in our shared social history, a fragment of our collective memory in a time of complex challenges and rapid change. Families and Flowers is the story of growers whose nurseries (and way-of-life) are shadowed by their neighbors' million dollar homes. In Lines in the Sand tidal artist Kirk Van Allyn etches a sacred space with only ephemeral sand drawings.
Edmund's Island is a portrait of a homeless news hawker— an angel to his customers.
Purpose
Many people's images of homeless are comprised primarily of negative stereotypes. It's my hope that a positive image may be useful for community education and outreach. Humanizing our notion of homelessness can help create possibilities for positive change.
Curriculum suggestions
English classes in which literature concerned with contemporary stories will resonate with the tale of Edmund Thompson, a homeless news-vendor who brings much more than papers to our town. Social Studies classes especially those with community service learning units will benefit from this introduction to the topic.
Discussion Questions
Are there homeless people in your community? Where? What do you know about them?
Is this a national problem? Why? (Jobs, housing, substance abuse issues)
What kinds of changes would we have to make in our society to eliminate homelessness?
What can you do in your community? What kinds of services and shelters are available?
What can we do individually or as a class to help?
Suggested Project
Students can create a questionnaire to learn what people commonly know about homeless in their community. Researching suggested websites is the basis for a fact based report on the problem and potential solutions.
Epilogue
After Edmund's Island was completed, the San Diego Union-Tribune announced that they would no longer allow Edmund and other homeless news-hawkers to sell the paper on the streets of Encinitas. In response numerous advocates for the homeless protest the Union-Tribune's decision. Despite coverage on television and in other local papers, the U-T refused to delay or reconsider its decision.
Concerned for Edmund in the community resulted in a job opportunity for him as a kitchen worker in an Encinitas home for seniors. But the low pay and expensive commute from downtown San Diego where Edmund still slept on the street, were too much. Edmund left his job and disappeared from Encinitas.
Links
Alpha Project The About Homeless link on the Alpha Project website offers a comprehensive overview of homelessness in San Diego.
Interfaith Shelter Network
National Alliance for the Mentally Ill
Regional Task Force on the Homeless
Archive.org
Archives
Mark Freeman Papers, 1997-2017, University Archives, Special Collections and University Archives, Library and Information Access, San Diego State University.  Special Collections may be contacted via telephone (619-594-6791), fax (619-594-0466) or askscua@mail.sdsu.edu