LINES IN THE SAND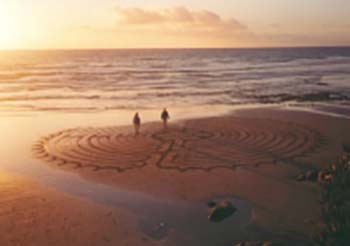 Preview
2004
7 :00
Producer/Director: Mark Freeman
Cinematographer: Mario Ortiz
Editor: Mark Freeman
Music: David Gordon
Environmental Artist:  Kirk Van Allyn
LINES IN THE SAND
Lines in the Sand is a lyrical portrait of art and meditation. Using simple handmade tools Encinitas artist Kirk Van Allyn creates public art on the pacific shore. Beginning at low tide, the process of creation is the work of art. Using the beach as his canvas, the artist paints with the elements – sand, surf and light. Van Allyn creates a labyrinth, a sacred space. His body dances through time, leaving patterns of beauty in the sand. The tide doesn't wait. Its return offers a fresh canvas for the morrow.
How To Order
Honorable Mention International EarthVision Film Festival
"Your film is thought provoking and tasteful. It does what art should do – it entertains and enlightens. It caused me to notice something I'd missed in person. Kirk's way of forming the lines is done as a sort of dance. The movements are precise, done with economy of energy and motion. They are mindful acts – meditation in action. I not only enjoyed watching it, I learned something. Thanks. Good work."  Jim Jones
Ashland Independent Film Festival
AsoloFilmFestival, Italy
Earthdance Environmental Film Festival, Oakland Museum of California
Honorable Mention EarthVision Film Festival
EcoVision Festival,Italy
EcoVision Festival,Brazil
Festival for Art on Film
George Lindsay Festival
Grapeflix
Harmony Channel
Iowa City International Documentary Festival
MEDIAWAVE Hungary
Museum of Photographic Arts San Diego,California
Subtropics Videos Miami, Florida
Lines in the Sand is the third part of an Encinitas Trilogy.
The Encinitas Trilogy is a portrait of people who make a real difference in the life of their community. Each of these videos documents a moment in our shared social history, a fragment of our collective memory in a time of complex challenges and rapid change. Edmund's Island is a portrait of a homeless news hawker— an angel to his customers. Families and Flowers is the story of growers whose nurseries (and way-of-life) are shadowed by their neighbors' million dollar homes.
In Lines in the Sand tidal artist Kirk Van Allyn etches a sacred space with only ephemeral sand drawings. Lines in the Sand is both a mediation, a portrait of an artist at work, an introduction to environmental art.
Curriculum suggestions
Lines in the Sand can provide a catalyst and inspiration in art classes at all levels, and can serve as an example for student video classes learning about the potential for creating video documentaries of their own.
Discussion Questions
What is environmental art? Earth art? How is this different from art found in museums and galleries?
Do you know any artists in your community? What kind of work do they do? Would they lend you a photo or slide of their work to share with the class?
How does the addition of music change our experience of visual art?
What is the difference between watching a video of Kirk's work and being on the beach while he is creating?
Suggested Projects
Students can adapt found objects to create simple tools for drawing patterns in the sand.
Use Google images to find pictures of natural objects (leaves, flowers, stones etc.). Use these images to create a layered collage digitally, or print them out and add actual rather than virtual found objects.
Links
Learn about Labyrinths
Labyrinths, Mazes & Geometric Symbols
Andy Goldsworthy is an environmental artist whose work has many similarities to Kirk's.
Kirk Van Allyn
David Gordon's orginal sound track for Lines in the Sandis included on Perfect Balance Musical Healing Vol. 2
Archives
Mark Freeman Papers, 1997-2017, University Archives, Special Collections and University Archives, Library and Information Access, San Diego State University.  Special Collections may be contacted via telephone (619-594-6791), fax (619-594-0466) or askscua@mail.sdsu.edu