BODY WITHOUT A BRAIN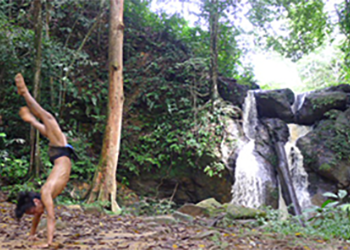 Preview
2014
6:30
Producer/Director: Mark Freeman
Choreographer: Rianto
Cinematographer: Purbo Wahyono
Editor: Cari Ann Shim Sham*
Music: Yasuhiro Morinaga
BODY WITHOUT A BRAIN
Body Without a Brain is a high risk, physically demanding dance for camera. Rianto seems to be in a trance as he creates an unpremeditated encounter with the elements. He describes the work as like a tree without roots. The piece embodies anxiety as the natural world becomes ever more threatened. Filmed in Kalimantan (Indonesian Borneo).
How To Order
Salamanca Moves Festival, Tasmania, Australia
The International Video Dance Festival of Burgundy, France
24th Quinzena de Dança de Almada – International Dance Festival, Portugal
Operaestate Festival (Italy)
Minikino Film Week,Bali – Finalist
Sidewalk Dance Films
40 North Dance Film
In/Motion, Chicago's Dance Film Festival
Museo do Oriente, Lisbon
National Taiwan Museum of Fine Arts
Dance Camera West Dance Media Film Festival
Mostra Internacional de Videodanca de Sao Carlos, Brazil
Topanga Film Festival
Hong-Gah Musuem Taiwan International Video Art Exhibition-The Return of Ghosts
Festival International du Film sur l'Art (FIFA) Montreal
Fuse: Royal College of Music (Stockholm) and Ättiksfabriken Art Space
On Site Impromptus Ming Contemporary Art Museum Shanghai, China
Numeridanse
Blue Magpie Experimental Film Series, Taiwan
FilmFest by Rogue Dancer
REDCAT online, Los Angeles
Museum of Wild and Newfangled Art Online Biennial
Commentary by Mark Freeman about Body Without a Brain: https://youtu.be/846KFEwreOg
Body Without a Brain
by Mark Freeman
From Jakarta to Balikpapan I flew on Lion Air, a small Indonesian airline that plies the 2600-mile length of the Indonesian archipelago. Balikpapan is in Kalimantan the Indonesian portion of the island of Borneo. I was headed for Lanjong. Travelling through the night we ferried across the Parai River, which was clogged with barges loaded with coal, much of which was headed to China. Driving through the mountains on narrow roads we dodged overloaded semis. By morning we made it to the Lanjong Art Festival. This privately funded event featured choreographers from Japan, Singapore, Norway, Mexico, Hungary, Indonesia, Italy and India performing in a beautiful, remote rural setting. There I had the opportunity to design a collaboration with Rianto, who like many Indonesians only uses a single name.
Rianto, an Indonesian choreographer and dancer traveled from his home in Japan, where he directs the Dewandaru Dance Company. Rianto trained in classical Javanese dance and folk dance specializing in the cross gender form of the traditional dance of Banyumas called "Lengger." He combines his practice of traditional Javanese dance with a sophisticated contemporary dance technique.
But Body Without a Brain is quite distinct from the constraints of Lengger dance. Its meaning and symbolism are not obviously drawn from tradition, myth or story. Rather the dance draws on trance practices. Body Without a Brain is a high risk, physically demanding dance for camera. Rianto creates an unpremeditated encounter with the elements. He describes the work as like a tree without roots. The piece embodies anxiety as the natural world becomes ever more threatened — in this case by mining and deforestation.
Rianto has performed Body Without a Brain on international stages including Staatstheater Darmstadt in Germany, the Honolulu Museum of Art, and Facets Choreography Residency in Attakkalari, India. We worked together to adapt the piece for performance facing a waterfall in the Kalimantan jungle.
Much of my work as a filmmaker has been in documentaries. Body Without a Brain is at the intersection of my documentary practice and experience and dance improvisation designed for the screen. It's the very openness of dance made for camera that allows for this kind of collaboration and cross-fertilization. As Argentine Researcher Rodrigo Alonso says, "Videodance grew out of practice itself, oblivious to definitions and norms." (Brum, 2016 p. 115)
My screendance practice privileges the screen. My understanding is that cinema is a synthetic art, which draws freely from all forms of creative expression, yet is not bound by the history or conventions of the forms it samples, explores and re-imagines. I am interested in creating work that only exists on the screen. The choreographers and performers give me the gift of their bodies and movements. I rely on their movement and performance choices, and they in turn are willing to invest their trust and their work in my experience and perspective as a filmmaker.
My filmmaking practice both as a documentarian and as a maker of screendance is grounded in 2 principles.
I believe that the best films reflect a process of discovery. They are informed by curiosity, chance and a commitment to mindfulness.
And I agree with Michael Rabiger's assessment that the work is a record of relationships.
Rianto's Body Without a Brain is not a documentary, but my approach has much in common with two of what Bill Nichols calls modes of documentary production — the performative and the observational modes.
The performative mode is work that is primarily about the emotional complexity of experience. (It is not about arguments and evidence.) Body Without a Brain is intentionally subjective — it is emotionally expressive, relying on an idiosyncratic vocabulary of movement, dance and music. Performative documentaries may be theatrical — often rely on staging, rehearsal, direction and repetition.
But in practice my work attempts to combine the visceral emotions of performance with observational documentary techniques. In contrast to "creating and shaping" a performance, my approach is more intent on discovering and revealing, and less interested in interventions. It's more about capturing than controlling. It's about process as well as product. Observational filmmaking is direct cinema, a "fly-on-the-wall" approach that doesn't intervene or interfere with the unfolding events.
As a producer, director and editor it's clear to me that the circumstances and decisions at each stage of filmmaking mean that films are "written" at least 3 times.
As an inspiration, and idea, a concept.
As they are shot.
And finally when the finite number of shots and sounds, which can be arranged in a nearly infinite pattern are structured into a linear form of expression. (The value of linearity would be a much longer discussion.)
I'll briefly reflect upon these 3 stages of creative work.
Pre-Production
Conceptually and practically I came to each stage of the filmmaking process of Body Without a Brain as an "outsider."   I brought the limitations and expectations of an American to Indonesia. I came without an inside knowledge of Indonesian language, history, politics, culture and tradition. The risk of ignorance, arrogance and error is substantial. For better or worse, I have no choice but to be an outsider making an attempt to be a cultural broker — with all the freighted baggage of privilege I may embody. Not only am I an outsider geographically, I am an outsider to the world of contemporary dance. I have no professional training as a dancer or choreographer. My films would be different, and perhaps better if I had that background.
If inter-cultural communication and exchange is possible and worthwhile, it depends on the goodwill, risk-taking and openness of all participants. Rianto's Body Without a Brain literally embodies risk-taking. It is essential to the work. Rianto's boldness may explain his willingness to collaborate with me.
Production
As a director I have chosen the location and setting for the performance. I usually think of myself as someone who works intuitively. I value the flexibility of an eclectic approach. Body Without a Brain was shot in challenging circumstances, within a very limited timeframe. This underscored our heightened awareness and the necessity to be present in the moment. The production and performance meet in a particular time and place, which contain and constrain; color and create a space for improvisation.
Rianto brought his own particular vocabulary and language to the location. His movements were largely improvised, as was the filming of the performance. These improvisations, like jazz, are about elaborating a melody, finding new harmonies and dissonances. Work is created in sequences or "movements" — in both a physical and musical sense. And these movements are revealed as a dance between the camera and the performer. The photography itself — much of the framing, focus and exposure — is the work of a very talented cinematographer, Purbo Wahyono. My role is something like a conductor working without a score. A reliance on improvisation is what primarily links these works to my observational documentary practice.
Post Production
Cari Ann Shim Sham* edited this film. (And I also want to acknowledge the importance of Yasuhiro Morinaga's score to the rhythmic structure of the film.) Cari Ann's work differs from the version I edited in Rasa Dari Tari/The Soul of Dance. These distinct approaches only serve to underscore the plasticity of the material. Although we have made different choices in shot order, pacing, etc., I would suggest that we share certain assumptions. This includes attending to the abstractions of movement and the challenge of fitting these movements into a progression — in some ways similar to the conventions of a narrative arc. This is not a literal minded storytelling, but rather an emotional journey that traces a discernable path. Within this framework there is a great deal of visual freedom. Body Without a Brain builds upon the subjectivity of the performance with the editor's subjectivity as an interpreter. There is no obligation to reveal the "whole body;" to respect gravity or the geography of the performance space; or to honor the temporal expression of the performance. In fact, altering the relationships of time and space is the essence of the screendance expression.
The film seems to have struck a chord and has been featured in festivals in Europe, Asia, Australia, North and South America.
Bibliography
Brum, L. (2016). Brazilian Screen Dance. In: Rosenberg, D. The Oxford Handbook of Screendance Studies. Oxford: Oxford University Press.
Nichols, B. (2017) Introduction to documentary. 3rd ed. Bloomington: Indiana University Press.
Rabiger, M. (2015). Directing the Documentary. Burlington, MA : Focal Press.
Di Bella, Giulia (2023). The Reclamation of Colonized Spaces Through Screendance Performances
BIOGRAPHY RIANTO
Director of Dewandaru Dance Company Tokyo. He was invited to dance in the reception for the inaugural ceremony of President-elect Obama on January 17-20, 2009, by the Indonesian Embassy in Washington.
He graduated from the Academy of Dance of STSI (currently known as ISI: Institut Seni Indonesia) Surakarta. He mastered the traditional dance of Banyumas called Lengger while in SMKI (Sekolah MenengahKarawitan Indonesia). After that, he learned Gagah and Alus Javanese traditional dance under Mr. Daryono while studying the court dance in Istana Mangkunegaran. He was a member of TBS dance Theatre Studio in Solo and has participated in works of Korean choreographer Sen Hea Ha, and he has performed in Seoul, Singapore, Belgium, Netherlands and Austria since 2005.
In 2006, he performed in an opera directed by Chen Shi Zheng of China, which was presented in Schubert Theatre in Boston and London Coliseum with English National Opera. In 2007 he received an ANA grant and has presented his own choreograph works Pintu Amaterasu and Healing in Surakarta Java, Jakarta, Taiwan, Surabaya and Riau Sumatra.
He was a delegate Indonesia choreographer at WDA Asia-Pacific in Singapore. He has collaborated in South-East Asian Arts by Nusantara with Postgraduate composer at Royal Northern Collage of Music and Performance in Lakeside Theatre Nottingham, UK.
He appeared as a guest artist in Gulliver & Swift and the Garibabastrange world of Japanese dance company Pappatarahumara. He performed Hallucination at the Japan Tpam Showchase 2010. He participated in the contemporary dance multicultural work Japan and Indonesia Pintu Amaterasu at KLPAC-Malaysia 2010. The latest worked Shadowing the Body was performed at Male Matters and Fourth Nartaka Dance Festival in India 18-23 Oct 2010. He is searching for traditional concepts in order to develop a contemporary approach with his own style of expression, using his lithe and strong body freely in Javanese traditional dance, as well as the female-role dance of Banyumas and in dynamic contemporary dance.
RIANTO Artistic Director Dewandaru Dance Company duradnawed@yahoo.com http://rianto-dancer.jugem.ne.jp/ http://dewandaru.jp
Education
2000 – 2004 Institute of Performing Arts, Solo (STSI) B.F.A. Dance
Dance
Training 2005 – 2014 Mangkunegaran Palace
Honors
2007 Grant from ArtsNetworkAsia for performance Pintu Amaterasu in Kaohsiung-Taiwan 2003 Choreography Prize Borobudur International Festival 2001 First prize at Yogyakarta Festival of Traditional Dance and Choreography 2000 Certificate of Excellence from National Council of Education, Central Java 1999 Recipient of Certificate for Juru Beksa dance from the King and Royal Family of Solo
Dance and Choreography Experience; 2013 28 − 29 Nov: collaboration To Belong Cycrodream by Akiko Kitamura at Chino Theatre -Nagano prefecture Japan. 22 Nov: Collaboration with Keiko Nakano ( Modern Dance Japan) and Shige Yoshimi ( Nihonbuyo ) at Theatre Curian Shinagawaku -Tokyo 2-3 Oct: Dance Soft Machine by Choy Ka Fai at Theatre Work – Singapore 23 − 25 Sep: Choreographer My Little Tutu at Asia Tri #8 Ullen Sentalu Museum Yoggyakarta 20 − 23 June: Media Machine Shibasaki Mashamichi Dance Theatre company at Ishida Rio Festival in Terphischore theater – Tokyo May 25 – June 2 : Body Without Brain at Lanjong Arts Festival 2013, East Kalimantan – Borneo, Indonesia Dec – Feb: Body without Brain International Artist Residence at Attakkalari India Biennial in Bangalore
2012
21-25 Sept: To Belong-Dialogue in collaboration with Akiko Kitamura, Setagaya Public Theatre, and Dance Box. 27 − 28 April : To Belong with Akiko Kitamura perform at Salihara Theater Jakarta,Indonesia. 30 March : Hallucination at 3 Butoh Dimentions, Indonesia, Spain and Japan in Terpsichore Tokyo. 15-18 March: Project Asian Tour To Belong with Akiko Kitamura at Morishita Studio,Tokyo Japan 06-12 February ; Demonstration Creative Asian Contemporary dance based on Traditional and Spiritual at CARE of Singapore and NAFA dance Academy, Collaboration with Sari Sari Kulintang ensemble in Asian Civilization Museum of Singapore. 01- 06 January: Choreographer Victim of the Full Moon at Festival Srawung Seni Candi Sukuh in Sukuh Temple of Karang Anyar, Indonesia
2011
10-14 December: Choreographer Martial Arts at Kalinga Mahotsav Festival in Dhauli Temple Festival Bhubaneswar-Orissa,India 11 November: at Spiritual Dance Of Asia Ritual Lengger Sintren in Nagoya 23 − 30 Sept: Director of Indonesia Friendship Culture in Banyumsa and Solo, Indonesia. 01 April – 21 June: Work at Trans Studio Bandung ( TSB ) as Trainer Choreographer 20 Feb-5 March: Work at Lanjong Arts Festival in East Kalimantan Indonesia.
2010
18-24 October; Choreographer Shadowing the Bodyat male matters and Nartak Festival in India. 20-30 Sept: Director at Indonesian Friendship Culture 2010 tour in Indonesia 09-12 June: choreographer Pintu Amaterasu & Hallucination at KLPAC Malaysia. 28 February: Choreographer and Dancer Hallucination at TPAM Showcase.
2009
1 Sept-07 Oct: Residence Artist in Nottle Teater, Hooyongri Performing Arts Center, Korea 5-12 June: Galibaba`s Strange World with Pappatarahumara Dance Theatre Company Japan
12 April: Choreographer Ritual Lengger in Spiral Hall Tokyo, Japan 28 March: Collaboration with Mr.Suzuki actor Noh Theatre Japan 2-3 Feb: Song of Body Salihara Jakarta, with Danang Pamungkas, member of Cloudgate dance 17-20 Jan: Choreographer and dancer at Gala Inauguration of President Obama in Washington DC, USA.
2008
16 Nov: Choreographer Pintu Amaterasu at Cak Durasim Festival in Surabaya. 27 Oct: Choreographer Rousoku in Emerging Choreographer at IDF Jakarta 9-12 Oct: Gulliver and Swift collaboration with Pappatarahumara Dance Theatre
8 August: Choreographer Pintu Amaterasu at Pastakom (Pasar Tari Kontemporer) Riau, Indonesia
20-21 July: Choreographer Healing and Pintu Amaterasu at TBJT Indonesia
24 Feb: Coreographer New Spirit of Indonesia collaboration Santi Budaya ltd USA 06 Feb: Wayang collaboration with Nusantara Culture of South East Asian in Nottingham.
2007
Oct-Nov: Monteverdi's The Coronation of Popea, Director Chen Shi Zheng with English National Opera( ENO) at the London Coliseum. 28-30 July: Choreographer Pintu Amaterasu at 2007 Young Choreographert Project in Taiwan. 09 June; Choreographer Rousoku at World Dance Alliance Asia-Pasific Singapore. 28 Jan-1 Feb: Choreographer- Pintu Amaterasu at Sketsa Tari Bulan Ganjil in TBJT Surakarta and Utan Kayu Theatre in Jakarta Infinita in collaboration with Sen Hea Ha and TBS Dance Theatre Studio in Europe (toured in Holland,Belgium and Austria)
2006
Monteverdi's Orfeo choreographed by Chen Shi Zheng in Shubert Theatre Boston. Infinita TBS Dance Theatre Studio at Concertgebouw in Brugge Belgium
A Prayer For Refuge Sen Hea Ha in Utan Kayu Theatre Jakarta Infinita and Bebrayan in collaboration with Sen Hea Ha, Indonesia Lenggeran at International Youth Conference, Indonesia Choreographer- Blue Moon collaboration project suara in Uplink Factory Tokyo.
Performance at Asia & Iwate Genki Festa, Japan.
2005
Workshop Instructor- Javanese traditional dance in several studio Tokyo
Choreographer Diatas Langit Masih Ada Langit in Tokyo Japan. Klono mask dance at South Asian dance performance Tokyo, Japan
Wahyu in collaboration with Sen Hea Ha at Ujiengbu Music Theatre Festival and at Modafe in Korea and Singapore Art Mart. Choreographer Misteri Lengger Banjarwaru at regional art mission in TMII Jakarta
Choreographer Kontrang Kantring Kubur collaboration with artist at the Yogyakarta Art Festival.
2004
Lenggeran in collaboration with Pring Sedapur at the International Cross Gender Performance, Yogyakarta Choreogrpaher Opera Lengger Sintren at The World AIDS day Indonesia. The Journey Of Spirit by Yukio Waguri, Butoh performance in Yogyakarta Instructor Sebelas Maret University for German Choral Festival Choreographer Pancuran Kapit Sendang, Yogyakarta Art Festival.
2003
Choreographer Rousoku and Harmonis at Monday Movement in Kedai Kebun JGJ. Choreographer Rousoku 1 at Young Choreographer Festival in TBJT Surakarta Spring In Solo, work by Hiroshi Papa Tara Humara at Teater Besar STSI Surakarta
Archives
Routledge Performance Archive
Numeridanse
Mark Freeman Papers, 1997-2017, University Archives, Special Collections and University Archives, Library and Information Access, San Diego State University. Special Collections may be contacted via telephone (619-594-6791), fax (619-594-0466) or email scref@rohan.sdsu.edu.