WEAVING THE FUTURE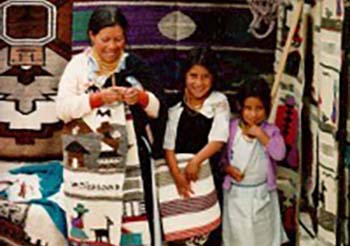 Preview
1997
24:00
Producer/Director: Mark Freeman
Cinematographer: Mark Freeman
Sound: Mark Freeman
Editor: Mark Freeman
WEAVING THE FUTURE
Weaving the Future is a video portrait of a unique indigenous community living in the Andean highlands of northern Ecuador. The story of the Otavalo Indians is not a stereotypical tale of "isolated people struggling to survive." Just the opposite. The people of Otavalo have successfully adapted their traditions of weaving and crafts to the international marketplace.
Selling their textiles in the U.S., Europe and even in Japan, the Otavalos are by any measure the most prosperous Native people in South America. Theirs is a fascinating story of economic success and social change. The program is intended for use in Anthropology, Latin American Studies, History, Development and Global Studies.
"I can't tell you how much pleasure it has given me!"  Prof. Jorge Preloran (Ethnographic Filmmaker)
"Engaging and accurate….challenges stereotypes." Prof. Marc Becker (Historian)
"Excellent" Anibal Buitron (Co-author The Awakening Valley)
Red Earth Film and Video Conference — FINALIST, DOCUMENTARY SHORT
Dreamspeakers Festival — NOMINEE, BEST GLOBAL INDIGENOUS AWARD
Pacific NW Festival of Fictional and Anthropological Cinema — MAYFIELD SPECIAL JURY PRIZE FOR ANTHROPOLOGICAL CINEMA
Imbabura Video Festival
Too often stories of indigenous people are told by outsiders. This documentary is no exception. It's a story made possible only by the generosity of the people of Otavalo. The weavers of Otavalo travel the world. But many people in the United States might be hard pressed to find Ecuador on a map, let alone have any knowledge of native people. I hope that sharing what I have learned, might open the door for viewers who are curious about our changing, interconnected world.
Bibliography
The Awakening Valley, by John Collier, Jr. and Aníbal Buitrón
Peguche, Canton of Otavalo, Province of Imbabura, Ecuador: a Study of Andean Indians, by Elsie Clews Parsons
Andean Entrepreneurs: Otavalo Merchants and Musicians in the Global Arena
by Lynn Meisch
Transnational Peasants: Migrations, Networks, and Ethnicity in Andean Ecuador by David Kyle
The Native Leisure Class: Consumption and Cultural Creativity in the Andes Rudi Colloredo-Mansfeld
Links
Otavalo, Ecuador
Building Bridges: A Peace Corps Classroom Guide to Cross-Cultural Understanding
Alberto Muenala Otavalo Filmmaker
Otavalo Videos
Quito Journal 1995
Archives
1″ Video Master
UCLA Film and Televison Archive 
Original Master Materials
Smithsonian Institution Research Information System
Senior Film Archivist
Human Studies Film Archive
Smithsonian Institution
NHB Room E307 Stop 123f
10th St. and Constitution Ave. NW
Washington, DC. 20560