TOMBA BRION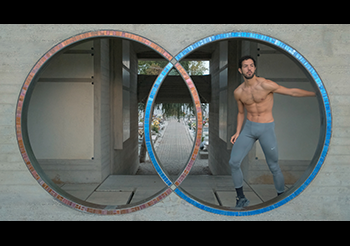 Preview
2022
4:22
Producer/Director/Editor: Mark Freeman
Choreographer/Dancer: Siro Guglielmi 
Cinematographer: Tommy Ilai
Post Production Wizard:  Greg Penetrante
Music: Luigi Nono's A Carlo Scarpa,
              architetto, ai suoi infiniti possibili 
TOMBA BRION
Carlo Scarpa's architecture is movement frozen in time.  Choreographer/dancer Siro Guglielmi explores this mediation on life and death — bringing his poetic imagination, capturing the spirit of the place. Guglielmi traces the geometry of intersecting lines, overlapping circles, steps and pedestals — reflecting on the endless cycle of change and continuity.
The tomb of  Giuseppe Brion is a synthesis of the physical and symbolic — drawing inspiration from Japanese simplicity and an ancient Islamic cemetery.  It is a modernist labyrinth in concrete.  
How To Order
INTERNATIONAL SCREENDANCE FESTIVAL OF CHILE  Semi-Finalist
NewGrounds Dance Film Collection  Finalist
Siro Guglielmi is an up and coming Italian choreographer.  His credits include:
NID New Italian Dance Platform 2022
Aerowaves Twenty22 Artist (European Dance Platform)
Winner of DNAppunti coreografici Young Italian Choreographers 2019
Co-founded the collective Mine 2019
Attended Duo à trois voix/Duetto a tre voci, research and creation project in partnership between
                           CSC –  Bassano del Grappa and Circuit-Est centre choréographique Montréal 2018
One was selected by DNAppunti coreografici 2018.
P!nk Elephant was selected by the Italian network Anticorpi XL 2017
Performed with DanceCyprus, for Israeli choreographer Itamar Serussi Sahar
Peformed for the company of Balletto di Roma 2015 to 2017
Giuseppe Brion was co-founder of BrionVega, an Italian electronics firm,  best known for the the modernist design of their 1964 portable television, featured in the collection of the Museum of Modern Art, NY.  After Brion's death, his widow Onorina Tomasi Brion commissioned Carlo Scarpa to create a tomb and memorial in Brion's home town, San Vito d'Altivole.  Scarpa, although never licensed as an architect in Italy, was well-known for creating meticulously crafted site-specific work.  The work was constructed over a ten year period (1968-1978).  After is death in Japan, Scarpa himself was buried at the site.
Bibilography
Carlo Scarpa Sandro Bagnoli: Design for Dino Gavina
Silvana Editoriale
Milan, Italy (2014)
Giuseppe Tommasi
The Drawings of Carlo Scarpa for House Ottelenghi
Silvana Editoriale
Milan, Italy (2012)
Francesco Dal Co
Carlo Scarpa: Villa Ottolenghi
Mondadori Electa
Milan, Italy (2007)
Zannier & Beltramini
Carlo Scarpa. Atlante delle architetture
Marsilio
Venice, Italy (2006)
Cleto Munari
Cutlery – Carlo Scarpa, Paolo Portoghesi & Luca Scacchetti
Cleto Munari
Milan, Italy (2000)
Marino Barovier
Carlo Scarpa – I Vetri Di Un Architetto
Skira
Milan, Italy (1999)
Bianca Albertini
Carlo Scapra: Architecture in Details
The MIT Press
Cambridge, MA, USA (1988)
Archives
Mark Freeman Papers, 1997-2017, University Archives, Special Collections and University Archives, Library and Information Access, San Diego State University.  Special Collections may be contacted via telephone (619-594-6791), fax (619-594-0466) or askscua@sdsu.edu