THE YIDISHE GAUCHOS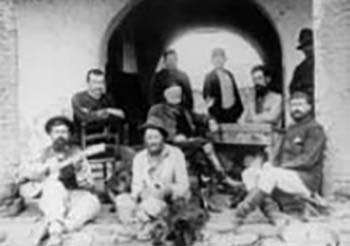 Preview
1990
28:00
Producer/Director: Mark Freeman
Cinematographer: Mark Freeman 
Editor: Mark Freeman

THE YIDISHE GAUCHOS
The Yidishe Gauchos is a story of immigration and survival in a new world. It is a little known story of Jews escaping from Eastern Europe to the pampas of Argentina. At the end of the 19th century millions of Jews fled from persecution and Russian pogroms. Some dreamed of Palestine. Others came to the U.S. and became tailors and peddlers. In Argentina, with the help of the Jewish Colonization Association, thousands became ranchers and farmers. This meeting of Jew and Argentine cowboy created the Jewish Gaucho.
The program includes oral histories, rare archival footage (some never before publicly screened) and comments from Dr. Judith Laikin Elkin, President Latin American Jewish Studies Association and Dr. Haim Avni, Hebrew University Jerusalem).
English and Spanish language versions available.
Teacher's Discussion Guide
GOLD APPLE National Educational Film & Video Festival  
RED RIBBON American Film and Video Festival 
AWARD OF MERIT Latin American Studies Association 
SPECIAL AWARD of MERIT  MII Users Awards
"The Yidishe Gauchos is an absolute original…. A rare and unexpected glimpse of an unfamiliar
world." Leo Rosten (The Joys of Yiddish)
"Flamboyant…startling" The Northern California Jewish Bulletin
"Poignant." The San Francisco Chronicle
"…spellbinding from start to finish." Jewish Week
"There's nothing like The Yidishe Gauchos…I enthusiastically recommend it." Deborah Kaufman, (Former) Director, The San Francisco Jewish Film Festival
Jewish Museum of Maryland
Jewish Broadcasting Network
Shalom TV
National Educational Film & Video Festival  
American Film and Video Festival  
Latin American Studies Association  
International Hispanic Film Festival
KQED Jewish Film Festival
Melbourne International Film Festival
Margaret Mead Festival
Museum of Modern Art New York
Smithsonian Institute's National Museum of Natural History
WTTW Image Union
Judah L. Magnes Museum — traveling exhibition
Production History
I lived in Buenos Aires for a year (1988) with my wife, Alison Brysk. (She was doing fieldwork for her book The Politics of Human Rights in Argentina.) It was a great relief for us to travel to the countryside—even on overnight busses. My family's stories of immigration to the New World of Philadelphia and Chicago would seem to have little in common with those of Jewish ranchers and farmers on the Argentine pampas. But watching dough stretched across a kitchen table in Entre Rios brought me back to my great-grandmother Ella's streudal extravaganzas. The stories I heard from the 70 and 80 year-old children of the Yidishe pioneers resonated for me. It seems to me that history is made and lived by each of us in our daily lives. And now more than ever we have the tools and opportunity to preserve and learn from our heritage. I always marveled at the shoeboxes full of photos that I was offered. They were treasure-troves. But all too often the names, dates, places and events depicted were lost to living memory. (I now compulsively label all my family snapshots. But I wonder how many digital images will be accessible 100 years from now.)
One of the pleasures of making the Yidishe Gauchos was working with Eli Wallach to record the narration. He was wonderfully generous. I directed the recording session by telephone, because I didn't have a budget to travel to New York from my studio in San Francisco. It was such a pleasure to hear him give life to our simple script. (For me this was a much richer experience than the time Robert Redford agreed to do a voice-over on his own, if I'd just mail him the script.)
The documentary was completed and a copy in Spanish sent to Argentina in time for the hundredth anniversary of the founding of Moisesville, the first Jewish colony in Argentina. There is often so much more material discovered than can be included in a short film. I was especially pleased to be able to curate an exhibition of historic photographs to accompany the video at the Judah L. Magnes Museum in Berkeley, California.
Links
Fiddler on the Hoof: The Jewish Gauchos of Argentina
Adventures on the Pampas: Or How I Won the Small Format War
Yiddish Gauchos???
Archives
American Jewish Archives
Dana Herman, Ph.D.
Director of Research & Collections
The Jacob Rader Marcus Center of the American Jewish Archives
3101 Clifton Ave.
Cincinnati, OH 45220
(513) 487-3069
UCLA Film and Televison Archive