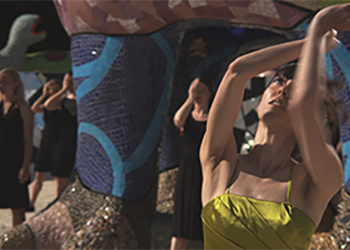 Preview
2012
15:00
Producer/Director: Mark Freeman
Choreographer: Yolande Snaith
Cinematographer: Rich Underwood
Sound: Jason Payne
Editor: Mark Freeman
Principal Dancers: Alicia Peterson Baskel,
Anya Cloud, Paul Laurey, Darcy Naganuma,
Gina Bolles Sorensen, J. Kyle Sorensen
QUEENS DREAM
QUEENS DREAM is a site-specific dance for film at Niki de St. Phalle's Queen Califia's Magical Circle. Dance for camera is a well-developed genre in which both dance and video arts are equally important. This approach takes advantage of camera technique and editing to create instantaneous changes in time and space. The result is a unique work that cannot be replicated in a live performance. It's an opportunity to respond to the visual energy of the "Magical Circle."

31st International Festival of Films on Art Montreal
Sans Souci Festival of Dance Cinema, Boulder, CO
OPEN STAGE Dance Theatres' Festival Mościce Art Center Poland
Videodança de São Carlos, Brazil
FilmFest by Rogue Dancer
Breaking Ground Festival, Tempe, AZ
University Film and Video Association Chicago, IL
Dance on Camera Festival, Finalist
Pull Me Though Your Birds Eye View
by Yolande Snaith
Choreographer Queens Dream
These notes are intended to inform us of the deeper source material and inspiration for the choreography, images, gestures and ideas that are embodied by the dancers throughout the film. My gut feelings, intuition and experience of creating choreography and dance for the camera, as well as my own aesthetic sense, are giving me strong messages that the "sound world" for this film could be very rich and diverse- essentially serving the choreography and visual images in a way that supports the multi layered and associative nature of the material by supporting it from the inside, enhancing and counter- pointing the dance and images to enrich the overall world of the piece, rather than to paste a piece of light and fluid music over the work in a way that may well carry the film along easily, but ultimately does not fulfill the powerfully evocative potential that I believe this film has. I feel that there are also some significant shifts in the film that could be enhanced and punctuated by shifts in sound also.
I want to break the film down into distinctive sections, identifying the inspiration and source material behind each section and the sound possibilities that might be interesting to explore.
Sections 1 and 2. Through the eye into the black and white tiled space / tiled corner space with mirror
This space within the sculpture garden is part of the Maze in Nikki de Saint Phalle s concept, the maze like entrance to the garden that has to be passed through to transition from the outer patriarchal world to the inner matriarchal world of fertility, imagination, fantasy and ritual. My response to this space was to find images and embodied ideas that spoke to that sense of transition or passage in a ritualistic way, and also to respond to the very contemporary and stylized visual language and architecture of this space.
So, the dancers here are focusing on several things at once:
Fish out of water — the body is moving from this internalized image, and a sense of being displaced, journeying through an unnatural and challenging environment that dis-orientates the physical body. Being wet was important for the dancers here.
Birthing — the dancers are also working with the sense of a difficult birth, a difficult passage into an unfamiliar world
Tripping in a designer bathroom as a kind of counter-point or associative layer to the ideas above, this space evokes a kid of designer bathroom environment where the dancers might be tripping in a drug induced state after a wild party. This is a kind of dream or fantasy element. This is more apparent as the dancers move into the larger corner of the maze with the curved mirrored wall o the right.
Possible sound world / palette of possible sounds:
Through the eye hole -natural sounds that might be associated with the bank of a river where fish are out of water Water / Bird song / Rattle snake's tail /Insects– but also with some kind of underlying drone or glass bell sound
As Paul enters frame for the second space there is a distinctive shift – perhaps long, deep extended string sounds sense of suspension going into a deep subconscious dream space
Section 2. Port hole.
The dancers are moving through a series of what I call rhythmic repetitions in and out of the frame. This movement comes from associations with forms of primitive ritual and ecstatic dancing (around totem poles or sacred monuments for example), where the dancers are in a trance like state.
Sound palette — there is a definite shift here into a new state buoyant, energized, colorful, ecstatic might be a good place for a marimba sound or light string plucking this can continue through into the
Trio in front of mirrored wall and reflections:
The choreography here is intricately set, and merges gestures and movement motifs that were generated from both written and movement responses to the totem pole sculptures — it is a kind of movement puzzle that keeps repeating in different spatial directions. This dance introduces the playful exploration and interaction with the interior space of the garden of imaginations and fantasy.
These movement and choreographic ideas continue throughout the film in different combinations of trio and duets, staged in different frames within the garden.
Some significant points of shift:
Darcy in green dress gestures into the group unison dance
Gina with gloved hand through eyehole into he duet with Kyle in Black and Alicia in pink dress through eyehole, and then in the temple space / women with eggs in background. This is a kind of mating / fertility dance in front of and through the central fertility temple with the golden egg
Large group rhythmic repetition dances these are built from each dancer creating a rhythmic repetition movement in direct response to a detail of a totem sculpture. I see it as both an abstract movement collage as well as a kind of contemporary ecstatic ritual dance – it has a kind of art rave feeling about it.
Gina and Kyle duet through archway. This is a kind of marriage duet one of the only dances where two people have more sustained physical contact it has a different feeling, musicality and human connectivity than the rest of the choreography it would be nice for this to be enhanced with the sound score.
Queens Dream
by Mark Freeman
Niki de St. Phalle (1930-2002) was a French-American artist well known for her large-scale installations, featuring her "Nanas." The Nanas, rotund female figures, are "huge, painted, covered in mosaics of mirror and colored glass, with some sculptures standing on the ground and other, inflatable Nanas climbing up a wall and onto the ceiling (Lipton, 2015).
Niki damaged her lungs working on the fabrication of the Nanas. She moved to La Jolla, California seeking clean ocean air. She installed stand alone Nanas throughout the San Diego area – at the Museum of Contemporary Art, the Mingei Museum in Balboa Park, the University of California, San Diego, and along the San Diego waterfront.
Niki had constructed "The Tarot Garden" in Tuscany (The Tarot Garden (il Giardino Dei Tarocchi) Official Website, 2017), and she became determined to create another environmental sculpture garden in Southern California— Queen Califia's Magical Circle. "There are nine freestanding sculptures in the garden. The imposing mosaic sculpture of Queen Califia standing on the back of a five-legged eagle commands the center of the garden. Eight large totemic sculptures surround Queen Califia. They are covered with symbols and forms freely drawn from Native American, Pre-Columbian, and Mexican art as well as the artist's own fantastic imagery" (Escondido.org, 2017).
I had made a documentary about Jean Isaac's Trolley Dances in San Diego. Filming the dancing was for me the highlight of the experience. But dance on film can be so much more than documentation of a live event. Inspired by Yolande Snaith's Ten Green Bottles Standing on the Bar, a Trolley Dance performance, I wanted to create a dance for screen. I had visited the Magical Circle a number of times, and was drawn to the visual and kinetic energy of the towering sculptures. I persuaded Yolande to work together with me to produce Queens Dream, a site-specific dance for film at Niki de St. Phalle's "Queen Califia's Magical Circle" in Kit Carson Park located in Escondido, CA.
Yolande Snaith, a British born choreographer, is a pioneering choreographer of dance films. "Yolande has created eight dance films in collaboration with a range of directors, designers and composers, including director Ross MacGibbon, composers Graeme Miller, and David Coulter and designer Robert Innes-Hopkins. In 1997 Stanley Kubrick commissioned Yolande to choreograph his final film Eyes Wide Shut, and in 1999 she was the choreographic adviser for David Hinton's film Birds, which was the overall winner of the 2001 Monaco Dance Screen Awards" (Snaith, 2017).
Yolande and I visited and studied the site of the Magical Garden over a number of months. We looked at the light, considered angles, framing and filming approaches. (I won't tell you how testing a fog machine, resulted in the arrival of the fire department, who ever alert to signs of smoke in the tinder-dry California park, were sure we had kindled a blaze.)
Our goal was to create a work that was rooted in the imagery and themes embedded in Niki de St. Phalle's sculptures. The goal was to create a journey of ritual and magic in a surreal landscape for a mythical performance. The themes of the work would include Saint Phalle's pre-occupation with birth, death and transformation. All of Niki's work has a strong feminist subtext. "De Saint Phalle's work is close to the American feminist artists of the '70s and '80s, especially Anita Steckel, Carolee Schneemann, Joan Semmel, Joyce Kozloff, and Miriam Schapiro. Her discourse … is entirely consistent with contemporaneous American feminism — direct, acerbic, critical, and demanding" (Lipton, 2015).
My approach to filming was a great departure from my customary documentary approach. Rather than observing the real world, we would create an imaginary fantasy that would populate Niki's dreamscape. This required recruiting and rehearsing a large company of dancers, creating costumes, securing props etc. The filming itself required a large crew and a substantial amount of equipment. Rich Underwood, the cinematographer, brought a wealth of experience and critical judgment to our two-day shoot.
Groups of dancers in black are reflected in the mirrors of the maze that guards the entrance to the site. Portholes and archways open to hidden worlds. Trance, ritual and repetition combine in a magical world invoking our unconscious dreams. The meaning shifts and changes depending upon where we stand. The camera moves within the magical circle, sometimes a part of the dance, sometimes the dreamer herself.
Because Queens dream is a dance created for the screen, the dance becomes the raw material for cinematic transformations. Superimpositions; mirrored images; fast, slow, and reverse motion; and repetition are all use to reconfigure the images of the dancers — changing and heightening the experience. The final step was a close collaboration with composer Jason Payne creating original music complementing and completing each segment of the film.
Bibliography
Escondido.org. (2017). Queen Califia's Magical Circle – City of Escondido. [online] Available at: https://www.escondido.org/queen-califias-magical-circle.aspx [Accessed 10 Oct. 2017].
Lipton, E. (2015). The Darkness Behind Niki de Saint Phalle's Colorful Beauties. [online] Hyperallergic. Available at: https://hyperallergic.com/177324/the-darkness-behind-niki-de-saint-phalles-colorful-beauties/ [Accessed 10 Oct. 2017].
The Tarot Garden (il Giardino Dei Tarocchi) Official Website. (2017). Home – The Tarot Garden Official Website. [online] Available at: http://ilgiardinodeitarocchi.it/en/ [Accessed 10 Oct. 2017].
Snaith, Y. (2012). QUEENS DREAM – Film Guide. [online] mfreeman.sdsu.edu. Available at: http://mfreeman.sdsu.edu/film_guide.php?film_id=26 [Accessed 10 Oct. 2017].
Snaith, Y. (2017). biography | yolande snaith. [online] Yolandesnaith.com. Available at: http://www.yolandesnaith.com/about/biography-2.html [Accessed 10 Oct. 2017].
Links
Queen Califia's Magical Circle
Niki Foundation
Yolande Snaith
Archives
Routledge Performance Archive
Alexander Street
Archive of the Recorded Moving Image
Jerome Robbins Dance Division
The New York Public Library for the Performing Arts
T 212 870 1748   F 212 870 1869