NUCLEAR NEWSREEL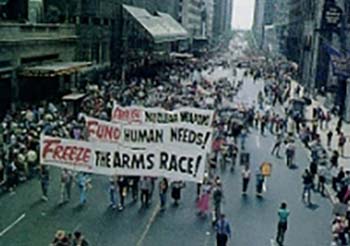 Preview
1983
28:00
Producer/Director: Mark Freeman
Co-Producer: Alison Brysk 
Produced in association with KCSM-TV
NUCLEAR NEWSREEL
Nuclear Newsreel is a unique example of an independently produced international news report. The documentary includes coverage from the 1983 International Day of Protest organized by the Nuclear Freeze movement. It features coverage from Japan, West Germany, Holland and various U.S. locations. It also includes interviews with Robert Dean (U.S. under-Secretary of State) and Daniel Ellsberg. Completed and distributed by satellite three days after taping of overseas news events.
How To Order
Distributed nationally to public television.
Production History
Nuclear Newsreel was one of the first independently produced, satellite distributed, documentaries. In many ways it was a precursor of the indy media center movement that grew out of the anti-globalization protests in Seattle in 1999. In 1983, without computers or the web Alison Brysk and I created a network of reports on an International Day of Protest against Nuclear Weapons. This was part of the Nuclear Freeze movement at the time — an effort to halt the production, testing and deployment of nuclear weapons. On June 26, 1983 coordinated protest were held around the world. We air freighted video footage from Japan, Holland, Germany, New Mexico, Vermont, California, Connecticut etc. to the studios of the Bay Area Video Coalition in San Francisco. We took over the entire facility and teams of volunteer editors worked through the night on linear editing systems to cut segments for our half hour production. We were greatly assisted by the Kim Spencer (Now President of Link TV) whose experience and expertise proved invaluable. The field footage was integrated with previously shot interviews of experts including Daniel Ellsberg. Steve Most's research and script provided the guide. Bernard Mayes was the anchor. The completed program was uplinked 72 hours after the protests, and aired on public television stations throughout the United States.
Links
What Activists Can Learn from the Nuclear Freeze Movement
Waging Peace
Abolition 2000
Alliance for Nuclear Accountability
Arms Control Association
British American Security Information Council
Bulletin of Atomic Scientists
Campaign for Nuclear Disarmament
Center for Defense Information
Global Security Institute
Hiroshima Peace Museum
International Physicians for the Prevention of Nuclear War (IPPNW)
Lawyers' Committee on Nuclear Policy
Nuclear Free Local Authorities
Physicians for Social Responsibility
Proposition One
Reaching Critical Will
Archives
Swarthmore College Peace Collection
Search for Nuclear Newsreel. There are two records in the database, one for the final video-recording and a second one for the out takes.
Wendy E. Chmielewski, PhD.
Curator
Swarthmore College Peace Collection
500 College Ave.
Swarthmore, PA 19081 U.S.A.
E-mail: wchmiel@swarthmore.edu
Phone: (610) 328-8557
Fax: (610) 690-5728