MAD RIVER
Hard Times in Humboldt County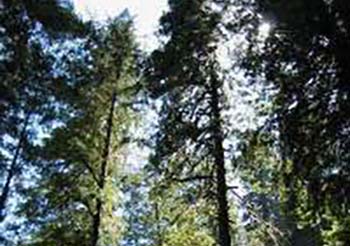 Preview
1982
54:00
Producer/Director: Mark Freeman,
Clair Schoen, Jack Wilson
Produced in association with KCSM
Cinematographer: Jack Wilson
Sound: Claire Schoen
Editor: Jennifer Chinlund
Writer:  Eugene Corr
MAD RIVER
Hard Times in Humboldt County
MAD RIVER is a portrait of a rural community facing environmental and economic disaster. Humboldt County is in the middle of the richest timberland in America. Redwoods 300 feet tall, 400 tons, 2,000 years old–the tallest trees in the world grow here. Once this forest seemed limitless. But over-cutting and the expansion of Redwood National Park have created a crisis in the redwoods. On one side are the environmentalists. On the other are two of the largest timber corporations in the country. Caught in the middle are thousands of timber workers, their families and a vanishing way of life. Funded in part by the Corporation for Public Television for  a nationally broadcast series: Crisis-to-Crisis.
How To Order
CERTIFICATE of MERIT Chicago International Film Fest
DIPLOMA International Festival on Environmental Problems
GOLD APPLE National Educational Film & Video Festival 
RED RIBBON American Film and Video Fest 
ARTISTIC ACHIEVEMENT AWARD Redwood Coalition 
"…A good solid job of filmmaking….Informative, impartial and interesting" Terrence O'Flarety San Francisco Chronicle
"More than a documentary MAD RIVER is a piece of contemporary history." Studs Terkel
MAD RIVER goes to the heart of the question. The issues isn't jobs vs. environment. The issue is the environment vs. short term profits." Joseph Fontain, (Former) Sierra Club President
"…recreates a remarkable drama." Patricia Aufderheide In These Times
"MAD RIVER is the story of real people in a real situation….This should be required viewing for anyone who works for a living." William W. Winpinsinger (Former) International President, Int'l Assoc. of Machinists and Aerospace Workers
PBS Series Crisis-to-Crisis with Barbara Jordan
Chicago International Film Fest
International Festival on Environmental Problems
National Educational Film & Video Festival
American Film and Video Fest
Festival dei Popoli (Italy)
Melbourne Film Festival (Australia)
Mill Valley Film Festival
Nature, Man and His Environment (Italy)
Mad River's story about jobs vs. environment in the timber industry continues today, more than twenty years after the expansion of Redwood National Park. Balancing sustainable economic growth and long term protection of the environment drives debates about global warming, nuclear power, energy exploration, habitat protection, pollution prevention, etc.
In Humboldt County there are still battles about old growth logging. But some speculate that marijuana production has replaced timber as the region's most significant industry.
Production History
Mad River was partially funded by the Corporation for Public Television as part of a national series called, Crisis-to-Crisis. The series was hosted by Barbara Jordan, the Texas Representative to Congress who gained national attention during the Watergate hearings. The film was made collectively with my partners Jack Wilson and Claire Schoen. Despite the difficulties (and terrible inefficiency) of filmmaking by consensus, we've managed to remain friends. Jim Watson, Gene Corr and Jennifer Chinlund made substantial creative contributions. Without their efforts the film would have been greatly diminished.
Our work grew from a shared commitment to social change. The San Francisco Bay Area in the 70's was home to dozens of independent documentary filmmakers. Groups like California Newsreel, the Mariposa Film Group, the Film Arts Foundation, and the Bay Area Video Coalition were especially important to our work. Mad River was the final production of a cooperative first called the Haight Ashbury Film Collective and later Fine Line Productions, not to be confused with the late arriving Fine Line Features. Our vision was to become community-based filmmakers. Our early work (now lost) on 16mm and double system Super 8 included a film about SF labor history as depicted in a mural, and a film about the plight of the San Quentin Six. Mad River grew from an earnest search to identify issues of national concern. Pre-production research and fieldwork led us to focus on Humboldt County. We pooled our resources and bought a VW van, a Nagra tape recorder and a CP 16. The original intent was to shoot a more observational film. We were directly inspired by Barbara Kopple's Harlan County, U.S.A., and attempted to emulate her process. We moved to Humboldt from San Francisco in the fall of 1978, renting a small house in a working-class homesite near Trinidad, California. We lived and worked there for nine months. We shot 16mm reversal stock, because we couldn't afford to regularly develop and workprint our footage. Reversal film let us at least check a roll or two from each sequence to confirm that we had no major camera or lens problems.
We returned to San Francisco broke, but not yet exhausted. I was a graduate student at the San Francisco Art Institute, and we used the flatbed moviola to cut sample reels for fundraising. It took three more years to complete the financing and post-production. The film was well-received nationally, and in Humboldt County, garnering awards in festivals, after its national television broadcast.
Links
PBS Series Crisis-to-Crisis with Barbara Jordan
Redwood National Park
American Lands Alliance – America's wildlife and wildlands continue to be threatened by logging, roadbuilding, grazing, off-road vehicles and mining. A broad coalition of activists and organizations is dedicated to protecting our forest heritage and restoring ecological integrity to the landscape.
Circle of Life Foundation– Supporting the work of Julia "Butterfly" Hill who spent more than two years in an ancient redwood in northern California.
Friends of the Earth is a national environmental organization dedicated to preserving the health and diversity of the planet for future generations. As the largest international environmental network in the world with affiliates in 63 countries, Friends of the Earth empowers citizens to have an influential voice in decisions affecting their environment.
Earth Island Institute – Founded by David Brower in 1982, this organization publishes the Earth Island Journal and sponsors many projects that promote the conservation, preservation and restoration of the Earth.
Environmental Protection Information Center – Located in Humboldt County, California EPIC is a grassroots non-profit oganization actively working to protect endangered species and forest ecosystems on California's North Coast.
Archives
UC, Berkeley Library
Search by Mad River:  Hard Times in Humboldt County
Steven Black sblack@library.berkeley.edu
UCLA Film and Television Archive
Mark Freeman Papers, 1997-2017, University Archives, Special Collections and University Archives, Library and Information Access, San Diego State University.
Special Collections may be contacted via telephone (619-594-6791), fax (619-594-0466) or askscua@sdsu.edu